Analysis
When the plugin starts, it will ask you for a JQL statement. This is where you limit the number of issues you are going to analyze. You can also select a project name from the drop down list under the text box to get a JQL automatically generated for you. Up to 1000 issues may be downloaded from your Jira to the plugin. During the download, a progress bar will be shown and text will inform you about the progress.
When the download is finished, you will see a screen with green buttons. The button names are the dimensions you can analyze. When clicking a green button, the button will disappear and the dimension with its values with blue bars will become visible below. You can click on multiple green buttons.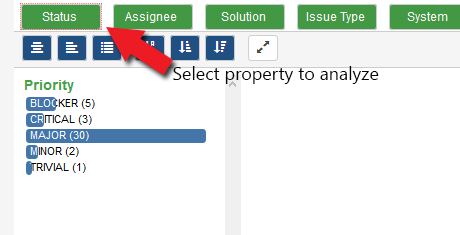 Text on the blue bars describes the dimension value represented by the horizontal length of the blue bar. The value is represented within the parenthesis. Note that you can change which variable to be displayed in the bars by selecting variable on the top of the page. You can also select the formula used when displaying the selected variable.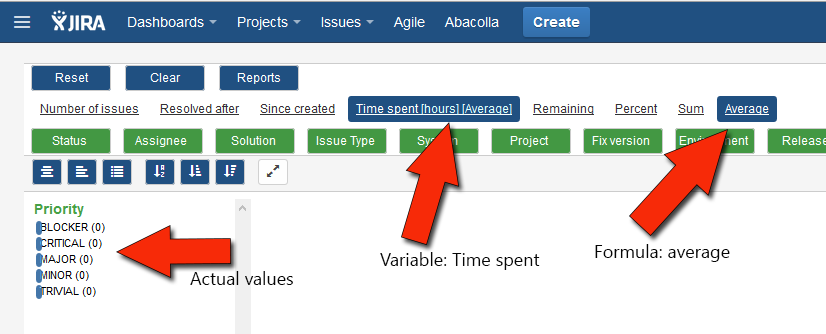 By clicking on the blue bars you will perform a search and the results will be reflected in the dimensions to the right of the dimension you clicked. At the bottom of the page the issues limited by your selections will be displayed.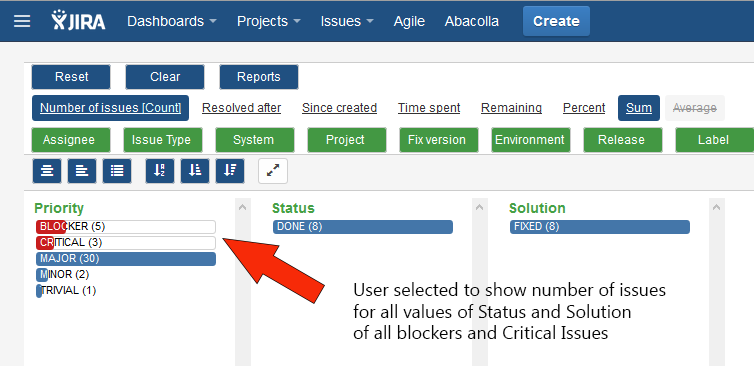 By clicking on the blue bars
You can continue to click on the blue bars to drill down to the result you want.
You can re-arrange the dimensions during the search by dragging a dimension and dropping it on anither dimension. This is very useful when your analysis found something you did not know you were looking for.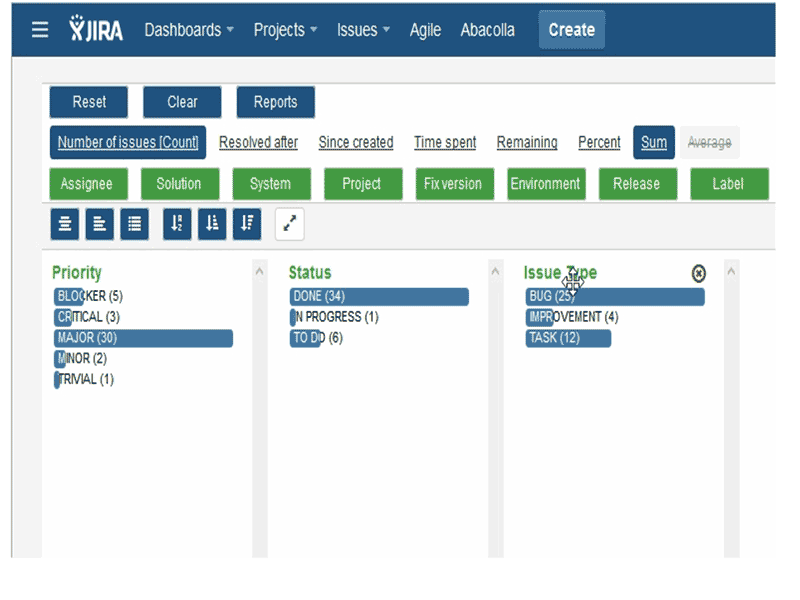 Reporting
By clicking on the share tab at the bootom of the screen you will see a PDF button. By clicking this button a pdf report of the currently selected issues and selections will be generated. This report is suitable for printing and sending as attachment on emails. Note: You have to configure your browser to allow popups from jira.abacolla.com for this function to work.